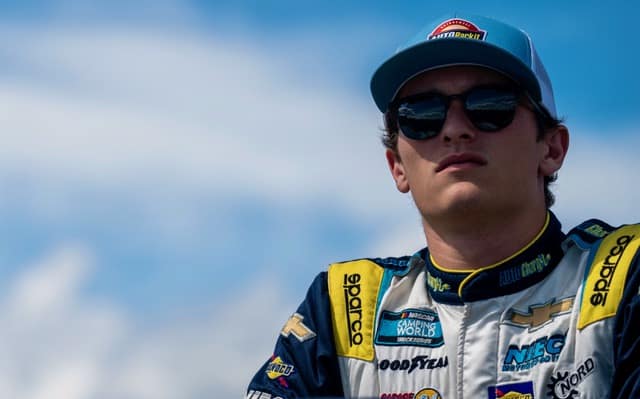 Good day! Thank you for sitting down with us. We look forward to this becoming a regular feature on your website and your new newsletter 3rd Chimp News.
EDITOR
You made a big move in for 2022 moving to Niece Motorsports and Chevrolet – Tell us about your experience and the support you have received.
LAWLESS
"My experience so far has been quite good with Niece and Chevy. I feel at home in the team and even though I have been struggling, I know everyone has my back and that feels really good."
EDITOR
You currently lead NASCAR's Camping World Truck Series Rookie of the Year standings by six points – How do you think you are doing? And what will you need to do to earn the title?
LAWLESS
"I think I must continue to improve. The Rookie of the Year competition is stiff, and if I want to win this title, I need to finish the year strong."
EDITOR
News out of Niece Motorsports is that Joe Lax is your new crew chief– What is he bringing to your program?
LAWLESS
"My new crew chief will be Joe Lax, who previously was the crew chief on the No.40 Niece Motorsports truck. He's used to winning and that's the experience we need for my guys and myself to get us to the next level.
"We need to have a strong finish to the year, and Joe is here to make us a regular top ten truck. So far, it's been tough with early contact at Mid-Ohio, rain canceling both practice and qualifying that put us on the back foot at Pocono and then getting fed the fence at Indy. I like the energy Joe's brought to our group – now we just need to put it together in the race."
EDITOR
Entering the last third of the season with a new crew chief – What are your expectations?
LAWLESS
"The team has been great all season we just need to get the truck better earlier in program. If we can do that– there is no stopping us."
EDITOR
You have a lot of road racing experience. Now that you've raced on superspeedways, mile and a half, short tracks and even the dirt – Which do you like the most and why?
LAWLESS
"I like mile and a half tracks and road courses the best. I like the intermediates because we are going so fast and we are relying on the air and the aero grip it gives the trucks and it is a very unique feeling. I'll always love road courses for how technical they are with the ups and downs of natural terrain and turning both directions."
EDITOR
Secondly – What type of the tracks do you need to improve the most? And how do you plan to achieve that?
LAWLESS
"I need to improve everywhere, there are just a couple missing pieces left in how to drive the trucks that once I figure out, will be the key to being fast everywhere we go."
EDITOR
This is your first season driving for Chevrolet– can you tell us what they have brought to your program and how beneficial it has been?
LAWLESS
"They've brought a ton of experience and help for me going into these tracks, most of which I haven't been to before. Being in their simulator has been incredibly helpful getting me up to speed and giving me an idea of what the truck will feel like before I get there to these new tracks."
EDITOR
You are very active on Instagram and have recently launched a line of apparel and a VIP ticket give-a-way on your website lawlessalanracing.com – Can you tell the fans what else is on the site, why they should visit, and what else is planned for the site?
LAWLESS
"In addition to apparel, there is a schedule of all my upcoming races in the NASCAR Camping World Truck Series, Trans Am and WRL. There is information on all of the cars that I drive, a look into my racing history, and live links to my social media.
"We have a lot of things coming. We just started a VIP Race Ticket Contest, a wait list for my new Die Cast Truck and we're launching a bi-monthly newsletter "3rd Chimp News". All these efforts, especially my VIP ticket give-a-way, are preparation for 2023 and my second year in NASCAR's Camping world Truck Series. I want to engage my fans and give them reason to visit my site. We post new gallery images twice a month, I've got some great wallpapers they can download, and the VIP ticket winners will be my personal guest at the 2023 race of their choice! It's going to be great, and I want my fans to be a part of it!"
EDITOR
Thank you Lawless for your time, we look forward to spending more time with you and doing more interviews that will be exclusively in "3rd Chimp News".