AUTODockit delivers fully automated boat storage. Boats are safely stored indoors in a rack and rail system, protected within a site-specific hurricane-protected structure.  Vessels are placed in Rack Storage structures of unoccupied space driven by industrial automation technology. AUTODockit uses the same trusted and proven modular scalable architecture from AUTOParkit™ a market leader in Autonomous Parking Systems. AUTODockit uses all electric motors and does NOT use forklifts, overhead cranes,  robotics, hydraulics, or pneumatics.  Travel lanes are significantly reduced in AUTODockit sites allowing increased storage capacity and maximizing revenue.
AUTODockit provides two solutions: Coastal and Inland. AUTODockit Costal lifts boats directly from the water while AUTODockit Inland is for trailered boats.
Stores vessels up to 50 feet  LOA (Length Over All) to be directly lifted from the wet slip equipped with our dock lift and then safely transported directly into the AUTODockit Rack Storage structure which can supply various sizes of dry slips. AUTODockit measures the vessel and automatically selects the proper dry slip to maximizer storage capacity. The AUTODockit System can be equipped to include a maintenance dry slip so that your vessel can be serviced and readied for your next adventure. When the owner requests their boat, it is automatically returned to the dock lift and splashed in the water. Safe, convenient, and efficient. Splash times are between 7 and 10 minutes depending on the building size.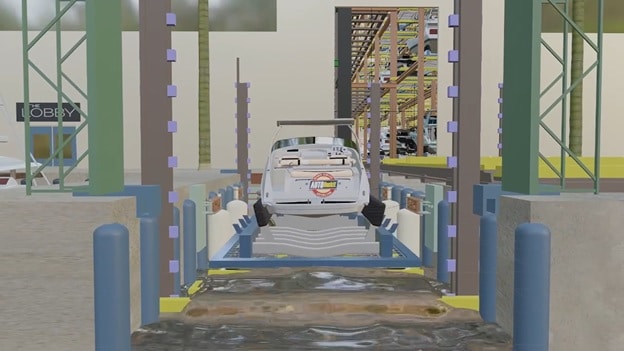 AUTODockit Coastal – Boat Lifted from the Water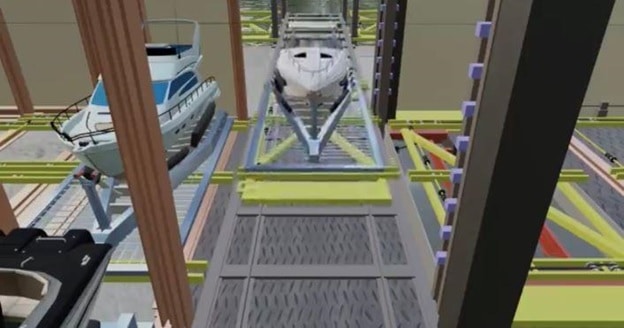 AUTODockit Coastal Boat Transported via Shuffle to Rack Lift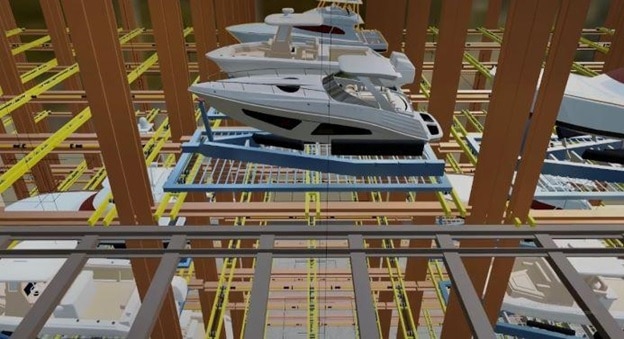 AUTODockit Coastal Rack Storage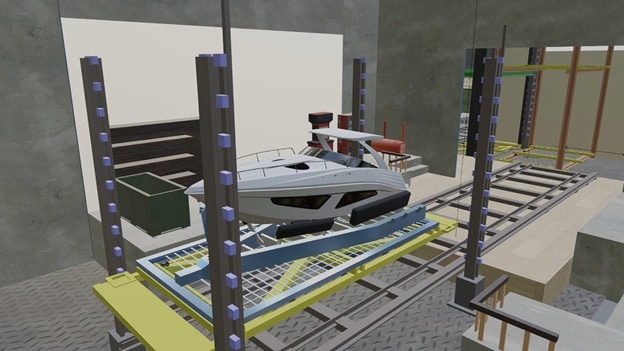 AUTODockit Systems Can Be Equipped with a Maintenance Bay
Provides for a drive-through Load Bay that accepts trailered boats up to 30 feet LOA. The boat trailer is unhitched while it resides in the Load Bay and then securely attached to an AUTODockit Pallet. It is then automatically transported into the AUTODockit Rack Storage. When the owner requests their boat, it is delivered to a Load Bay. The driver simply backs up their vehicle to the Load Bay and hitches the boat trailer. Safe, convenient, and efficient.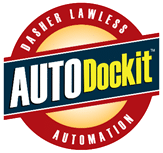 Leave the wake in the water, not your boat