The Making of a Fully Automated Garage
Process makes perfect. Commerical developers looking for a high-density parking solution share a common process as they progress from initial inquiry to an operational AUTOParkit System. The welcome news is that AUTOParkit delivers a complete turn-key solution throughout every stage. Each stage builds on the one(s) before so the developer is capable of making informed decisions promptly for their project. AUTOParkit over the past decade has refined the four project stages as (1) Inquiry, (2) Conceptual, (3) Design/Build, and (4) Operational.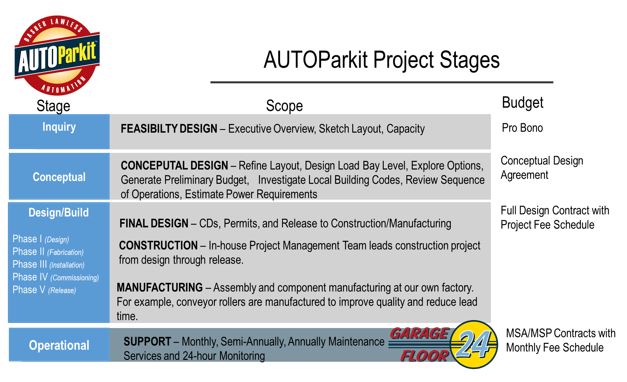 Each stage identifies a different set of deliverables for Scope-Schedule-Budget and it is adapted to meet the needs of a developer's team and project requirements.
Inquiry Stage Pro Bono

Presentation on AUTOParkit and its Solutions Suite
Review Site Plans  Discuss Parking Capacity
Understand Peak Hour Requirements
Review Ingress and Egress
Discuss User Experience
Design Layout and Equipment to Surpass Throughput Needs
Integrations to Smart Buildings Technology
EV Charing Possibilities
AUTOParkit Feasibility Layout – Executive Overview/Sketch Layout/Capacity

Conceptual Stage Conceptional Design Agreement

Refine Layout Design
Design Load Bay Level
Deep Discovery of Options
Generate a Rough Magnitude of Pricing (ROM)
Investigate Local Building Codes
Review Sequence of Operations
Estimate Power Requirements

Design-Build Stage Full Design/Build Contract

MEP Requirements
Fire Protections Requirements
Final Design Includes C/D's. and Permit Filings
Project Decoupling Between System Construction Start and Component Fabrication
AUTOParkit In-House Project Manager Leads Construction Cycle from Design to Release
Component Build List is Created  Component Manufacturing is Performed in House for Improvements in Quality Control and Reduce Lead Times
Components arrive Just-In-Time to improve production schedules and construction times
Field Engineering Reviews of Installed Steel Fabrication
Factory Acceptance Testing (FAT) is performed on all components prior to leaving manufacturing. All components are validated to surpass given specifications.
On-site commissioning begins with the power initialization of the newly installed system. Every component is thoroughly tested independently and performance in total system operation.
All sensors are validated to be in operation and functionally as required.
System Commissioning Complete with Live Operations
System Acceptance and Release to End-User

Operational Stage MSA/MSP

System has 12 months of complete parts and service warranty
GarageFloor24 offers several programs for ongoing maintenance
GarageFloor24 (GF24) integrates a highly trained engineering staff dedicated to remote monitoring of machine automation used in commercial applications and 24-7 phone support to mitigate the time required to resolve customer issues.
The GF24 Monitoring Team is centrally located but connected to each system using high-speed Internet and custom SCADA software for immediate notification of Warning and Fault conditions. Additionally, the team uses machine animation for visual diagnostics and high-speed internet cameras for instant clarification of machine conditions and responses.
The SCADA software allows for predictive failure analysis that generates work orders for on-site maintenance staff which corrects issues before a failure causes an unwarranted shut-down.
Performance, asset management, and maintenance reports are also generated by GF24 software.
Selecting a fully automated parking system for commercial development is a critical decision. Developer's need to select a parking technology as well as a long-term partner. AUTOParkit is there from the start to offer sage advice, fact-based answers, and reliable solutions. We have an obligation to every one of our clients, to be frank, forthcoming, and objective. It is not enough to offer condolences for failure or distance ourselves from tough decisions but to remain proactive and outspoken, fulfill each obligation we make, and commit our entire portfolio of resources to ensure their success.