A Comprehensive Multifaceted Layered Strategy
AUTOParkit was conceived using a holistic approach governed by our guiding principles for the entire product life-cycle and employee an innovative design, industrial rated components, extensively tested software, and proven process techniques to ensure 99.99% reliability. A comprehensive multifaceted layered strategy sets the foundation that deliveries system reliability.


Each Facet Adds Additional Protection to the AUTOParkit System
AUTOParkit Guiding Principles
Safe – It is first and foremost for every interaction, during every phase for the entire life-cycle of the AUTOParkit System
Modularity and Scalability – Allow for multiple combinations based on the same set of welldefined subsystems. There must be two essential elements to achieve modularity: (1) A thoroughly defined specification for external interfaces/behavior and (2) enforcement of that specification
Simple – Each installation includes the principle that a system is simple when based on a welldefined, straightforward, consistent set of rules
Robust – Capable of running 24/7/365 and providing MTBF with proper maintenance for over ten years
Cost-Effective – Each installation shall be less than or equal to an equivalent traditional parking structure. Operating costs shall be 40% less than a conventional brick and mortar parking structure.
Performance – Peak-Hour-Demand of retrieval or storage shall remain the benchmark for each system. An AUTOParkit System shall be capable of delivery of a vehicle in 40 to 180 seconds.
Engineered – Works as designed. It is not by fate, luck, fortune, or wishful thinking but by purposeful planning, meticulous design, and careful implementation.
AUTOParkit's Multi…
Inherent in the AUTOParkit design process is continuous mitigation against a single point of failure. This is not only for the build process but also for operations.
AUTOParkit Multi-Path: AUTOParkit automatically selects an alternate route due to congestion or maintenance when delivering a vehicle. It continuously recalculates the ETA of each possible path and can choose an alternate path at any time.
In the diagram below, GREEN is the primary path and BLUE is the secondary path. This design does not rely on a single route for vehicle delivery.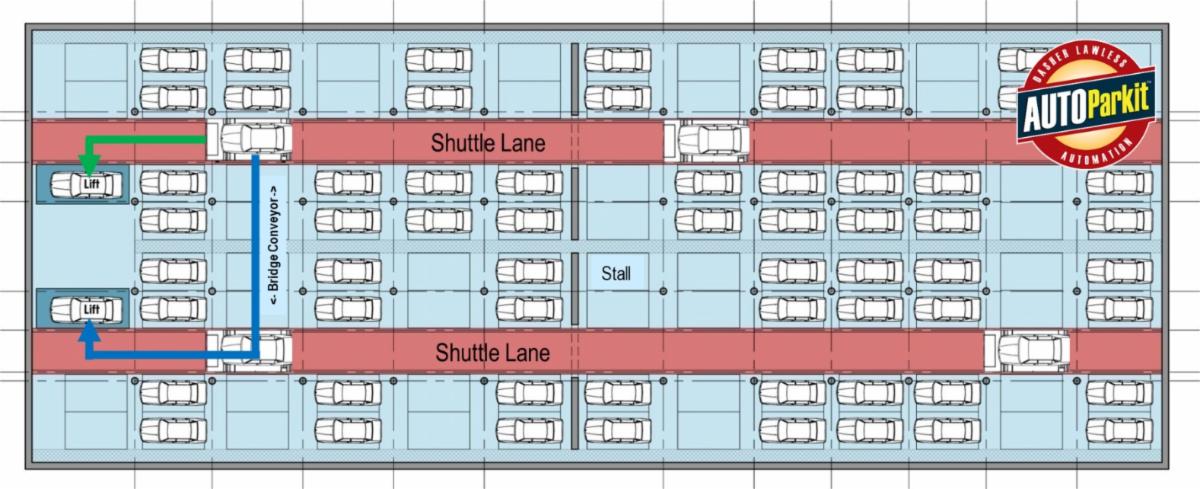 Reliability Examples: (1) Multi-Path & (2) Multiple Shuttles / Shuttle Lane
AUTOParkit Multi-Shuttle: Also shown in the diagram above is the ability for AUTOParkit to be designed with multiple Shuttles in the same Shuttle Lane. This provides increased performance and improves system reliability.
AUTOParkit Reliability Additional Examples
AUTOParkit spans architectural, structural, mechanical, electrical, logical, and even virtual systems. System reliability is accomplished using a variety of proven and innovative techniques. Below is a select list of inherent techniques deployed by every AUTOParkit System.
Design/Build
Pallets are powder-coated on all six sides
Rollers built for more than 1,000,000 Revolutions
Integrated intelligence with self-correcting features
Distributed Controls
Use of parasitic drives to reduce system costs
Industrial Grade Components
IP66 Rated Control Panels
IP67 Rated Motors
24 Hour – Monitoring
Monitoring Service Plan (MSP) for 24/7 System Monitoring and online support
Self Diagnostics with automated reporting
HD Cameras for immediate remote visualizations
Scheduled Maintenace
Maintenance Service Agreement (MSA) for monthly scheduled maintenance
Predictive Maintenance
MTBF – End of life for critical components are track
On-site spare parts reduce MTTR
Select Redundancies/Backup
UPS
Multiple LANs
Dual Electric Motors for Lifts