Due to rising land prices and a decline in the availability of larger parcels, the dominant old-style one-story cement box design with direct access is in decline. Design dominance is now a multistory building.
Typical climate-controlled storage multistory facilities deploy elevators requiring users to load carts at ground level and journey to their storage level. They then travel down a corridor to access a freight elevator, only to meet another passage before approaching their assigned unit.
AUTOStorit is a disruptive technology that brings the user's storage container directly curbside when requested by the owner. A user's car/truck/van can back up and load or unload now into the storage container. After the user has completed their use, they signal the AUTOStorit System to transport their storage container into the unoccupied, secured rack storage vault. Automation provides the muscle and no wasted elevator trips requiring numerous cart loading and unloading. Additionally, theft by tunneling into a permanent storage unit via adjacent walls is non-existent. AUTOStorit delivers a Safe, Secure, Convenient, and Touchless experience.
Legacy Climate Controlled Cart Use System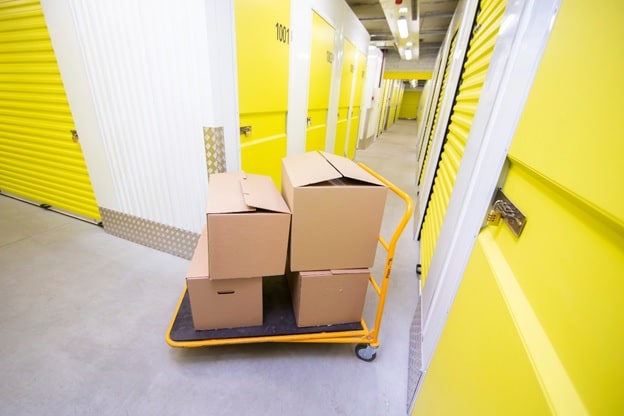 AUTOStorit Storage Building with Curbside Access Storage Bays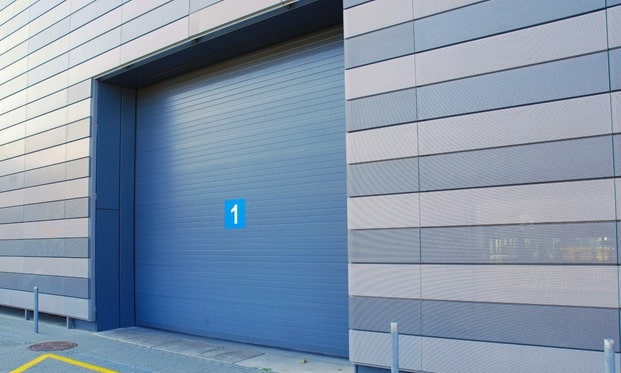 AUTOStorit Storage Bay Street View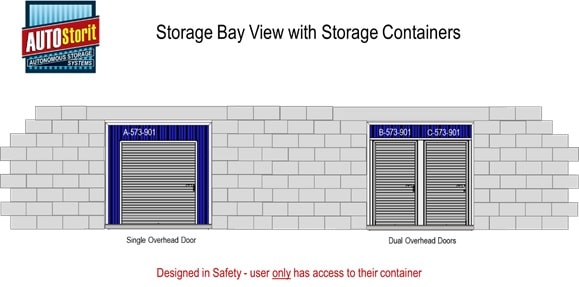 The Storage Bay is located curbside, where a user can back their car up to the storage container's overhead door. Loading and unloading curbside is significantly faster, easier, and less stressful than lugging items throughout a storage facility.
The standard access to every container pallet is curbside, providing a simple, convenient, and flexible access. The storage container is 20' x 8'-6"' x 8' and placed onto a pallet, forming a Container Pallet. The AUTOStorit System can then move the Container Pallet to the Rack Storage area in the building when not in use by its owner or move it to the Storage Bay where a user can access it.
The Storage Container itself has an overhead door. When the Storage Container is further subdivided, it can be configured as a single overhead door or two 3' overhead doors.
The AUTOStorit is a Rack & Rail, Pallet-Based System that provides a variety of pallet-based storage options:
Stake Pallets – Removable Wood or Metal short (24") perimeter fences can be removed to ease loading/unloading by hand truck or fork truck. An economical storage solution.
Cage Pallet – Typical fences on five sides with gate access. Excellent for
Standard Container Pallet – 4 solid walls and a ceiling with an overhead door. The container can be subdivided into two halves, or 1-half and two quarters or 4-quarters. Each sub-unit will have a separate overhead door.
Refrigerated Container Pallet – Insulated walls and ceiling with a refrigeration unit connected to electricity when placed in a charging unit location.
Freezer Container Pallet – Insulated walls, ceiling, and floor with a freezer unit attached connected to electricity when placed in a charging unit location and with a battery backup.
Removable Container Pallet – The container can be decoupled from the pallet to be placed on a flatbed truck for off-site delivery.
Summary of AUTOStorit Benefits
Density: Unoccupied steel rack structure allows for increased storage capacity by reducing heights for each level to maximize revenue.
Convenient: Each Storage Container is delivered at grade. No freight elevators or loading carts are required, reducing the amount of work by an end-user.
Safe: Storage Bays are accessible to users only after their storage container has been delivered.
Integrated: Container Pallet tracking allows AUTOStorit to link to automatic billing systems.
Efficient: Container Pallet Can be Schedule in Advance for Delivery to Storage Bay
Versatile: Pallets can be retrofitted with various options to adjust to market changes.
Effective: Automation reduces user building access to the Storage Bays. It eliminates the need for a user to access hallways, passenger elevators, and stairwells.
For more information, go to www.dasherlawless.com or send us an email at mkobus@dasherlawless.com