Reaume Brothers Racing has signed Lawless Alan to five additional races in the 2021 NASCAR Camping World Truck Series, including Nashville, Pocono, Watkins Glen, Bristol, and Talladega. Alan made his NCWTS debut with RBR earlier this year at the Daytona Road Course, followed by Circuit of the Americas.
"Lawless had very strong runs in his first two races with us despite both being plagued by rain. We instantly recognized how talented he is and immediately went to work on finding some additional opportunities to keep him in the 34 truck. Its rare that you get to work with such a young talent, so when you have that chance, you want to take advantage of it. I'm really looking forward to getting him experience at a variety of different tracks to prepare him for next year. " expressed Owner Josh Reaume. "Lawless' understanding of the sport and the various elements far exceeds his young age. He has a great racing IQ and will undoubtedly continue to have success."
Alan, who's won championships in Legend Cars, Late Models and was Trans Am's TA2 Rookie of the Year, is scheduled to run the full NCWTS schedule in 2022. Shawn Adams, AUTOParkit's Vice President of Sales and Marketing, was excited by the announcement. "Lawless is a perfect ambassador for our brand, and we're excited to have AUTOParkit and Siemens back on the truck. When Lawless is racing, it provides us the opportunity to expose our brand to a global market. We also use these race days to entertain customers, vendors, and their families trackside. Our motorsports involvement provides the perfect venue to build camaraderie through a shared team experience and develop a personal bond with clients, which is paramount for our company's continued success."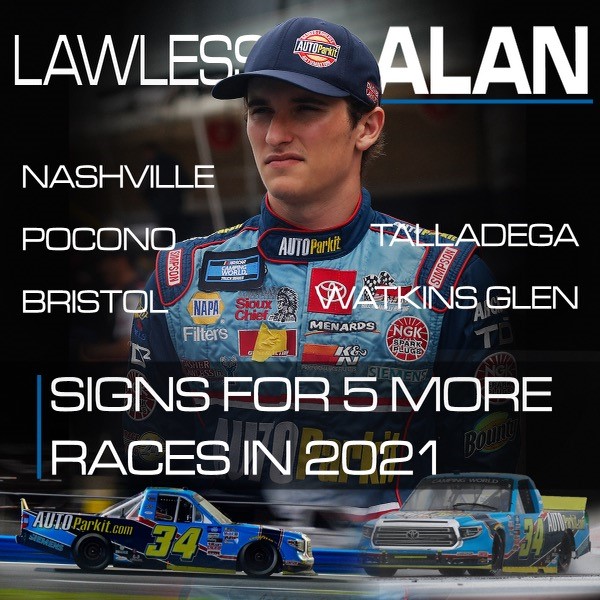 AUTOParkit
AUTOParkit utilizes Siemens off-the-shelf components as the foundation of an automation architecture used to build world-class autonomous parking systems. AUTOParkit Systems are for new and existing buildings and can normally double-parking capacity compared to traditional ramped concrete parking structures. AUTOParkit's sustainable approach to autonomous parking systems provides up to 17 LEED points; enables faster construction due to factory assembled subsystems; is 40% less expensive to operate since it is automated; automatically swaps EVs in EV Charging Stations to reduce capital costs up to 10X; is safer for the user; and delivers a necessary, convenient alternative to an escalating global problem. AUTOParkit™, AUTOStorit, AUTODockit, AUTOChargit, PARKSenty are all designed, manufactured, and constructed by Dasher Lawless Automation, LLC.